WELCOME
EMILY MANGUS
INTERIORS
Interiors that make an impression.
Invest in Classic Looks.
Acquiring a key item for your home, such as a beautiful dining room table or custom sofa, will pay decorating dividends for years to come.
Use Art & Accessories for A Punch.
Here, the client can enjoy selecting lamps, art, pillows and fabrics that reflect their personality. Emily considers navy a neutral and loves to mix antiques with contemporary accessories.
Say it again: Art, Fashion & Design.
A fabulous chandelier can serve the same purpose as a bold jewelry selection; both are accessories that create a focal point.
The 4 Cs.
Classic. Contemporary.
Comfortable. Chic.
Based in Roanoke, Virginia, Emily Mangus is an allied member of the American Society of Interior Designers and the winner of the 2016 & 2018 Roanoker Magazine "Best of Roanoke" Platinum Award for Interior Design. With a collective 10 years of experience in her field, Emily's sharp eye for design trends and unwavering commitment to "the 4 Cs" has led her to help countless families reinvent the look, feel, and function of their homes.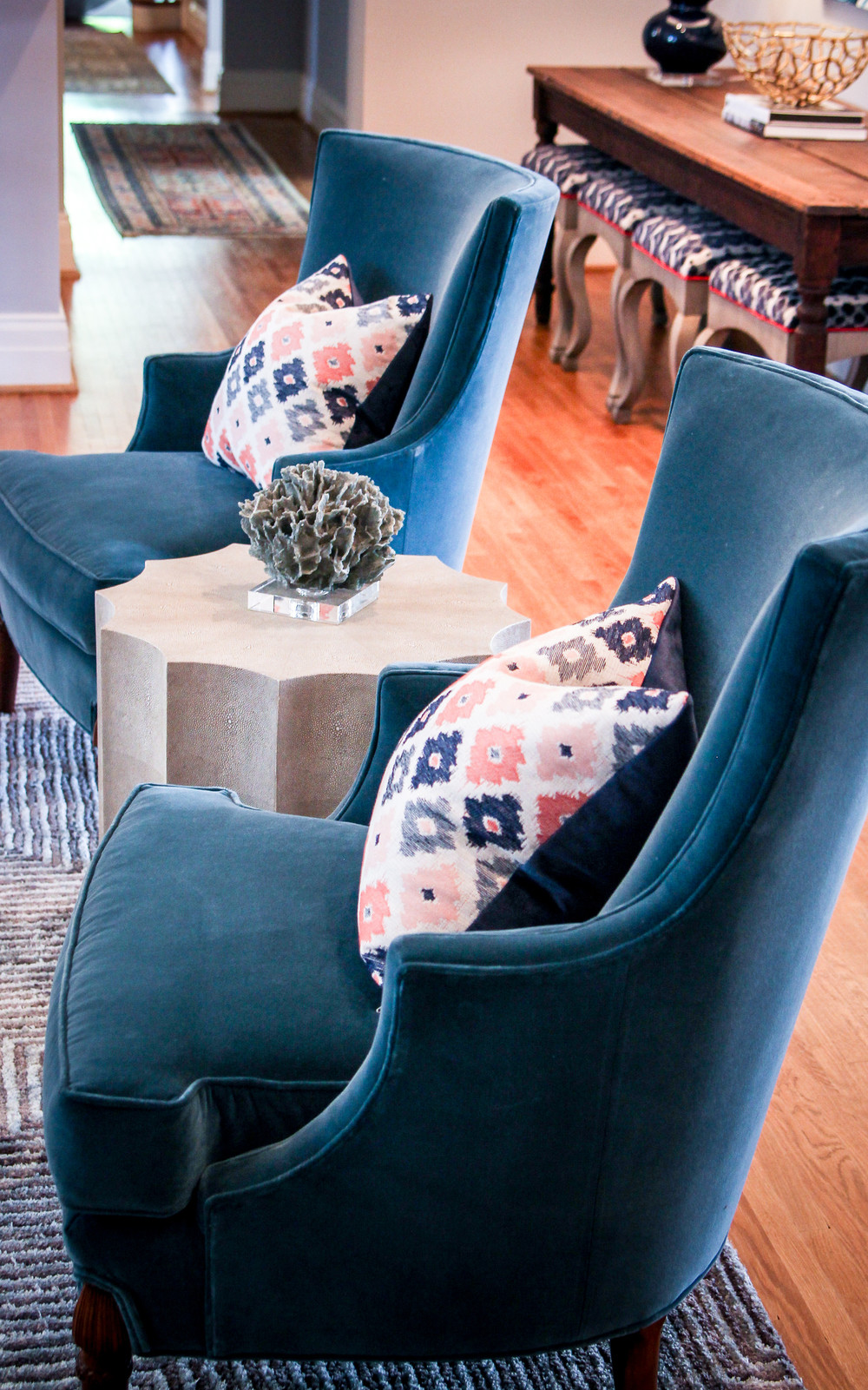 Finding your style.
Perhaps you're not sure where to start? Maybe you aren't even sure what you like? Or what's worse- maybe you like everything and can't decide? Designing from scratch can be overwhelming, and committing to a coherent look can sometimes feel like a burden. Let Emily handle the details so you can sit back and enjoy the finished product.
Something for everyone.
Whether you're interested in using your existing furniture or starting fresh, projects can be concentrated on one room, a few rooms, or your entire home. Emily's services cover an array of projects such as full renovation, DIY home improvement, and real estate staging. And the end product? Comfortably chic living spaces that are custom designed and tailored to fit your lifestyle and your budget.
Thanks so much for your interest in working with Emily Mangus Interiors! Emily would appreciate the opportunity to earn your business, regardless of the scope of the project. To schedule a consultation or simply have a chat about what Emily may be able to do for you, please inquire below: